Home CCTV Services      
Here at J&A Security Systems, we provide a number of different security products from our base in Exeter, including home CCTV installation services. CCTV, or Closed-circuit television is a type of video surveillance that uses video camera to transmit a signal to a specific place, where what is being filmed is shown on different monitors.
Most people will be familiar with CCTV through the use of such systems in business, shopping centres, car parks and on the road. Now, you can also benefit from the installation of CCTV in your home. Domestic CCTV systems are designed to help to prevent crime, making you feel safe and your property secure, as well as offering you the video footage, should anything happen.
We are able to supply the necessary products for CCTV as well as carry out the installation service.  We provide the latest infra-red CCTV cameras, which make use of 1080p Full HD/4K high resolution technology. Whether for residential or commercial installation, you will benefit from receiving real-time images recorded through the HD recording equipment.
CCTV Business Installation
Offering a complete package, we install all IP network camera systems with network recording solutions. Each of our systems includes the relevant software, which simply connects to the internet via your network/router. This enables you to dial into the system, easily viewing any live or recorded images straight from your computer, as well as having the option to view the footage from your smart phone or tablet using a handy app. We also include a full 12-month warranty for your peace of mind.
If you have more specific requirements, we are sure to be able to find something to suit your requirements, whether you need static or vari-focal cameras, PTZ domes, ANPR number plate recognition, smart technology with object detection, fish eye 360 lens, or covert solutions. From a single camera home CCTV installation at your door, to a multiple camera system with a room for use as a monitoring facility, we will be pleased to discuss your requirements. Simply get in touch to find out more.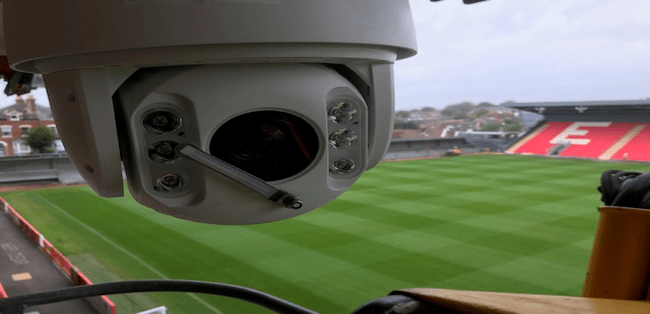 Image from our CCTV System at Exeter City Football Club