Supply and installation of BFT Automatic Barrier Systems.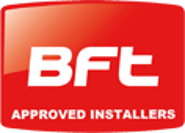 All our BFT barriers can have a fixed tip rest or a space saving swinging tip rest that is attached to the end of the boom.
We always install a vehicle safety loop, in the roadway, directly under the boom so if a vehicle is present the barrier will not close. Once the vehicle moves away from the area the boom will then close. We can also install another loop on the inside roadway to trigger the barrier to open when a car approaches to exit out of the site.
Stop & No Entry signs will be fitted onto the midway point of the boom and also Red and Green LED lights. They remain on at all times with Red when closed, flashing Red when opening/closing and Green when open. This gives the system the visual warning required for any vehicle/pedestrian approaching.
Our BFT barriers have inbuilt object detection via the encoder and the control board detects if an object comes into contact with the barrier and it will feel the pressure and immediately stop and reverse the operation back to the open position. On the Bottom of the every boom there is a rubber safety edge to assist this function.
barriers can lock in the closed position via external magnetic locks. Manual barrier release functions on all our systems to open in the event of a power failure.
All our systems come with remote fobs but any of our intercom and access control systems can be integrated onto any of our BFT Barriers. GSM dial to open facility available so you can trigger the barrier to open remotely, keypad functions and biometric readers.