All forms of design, supply, installation and service of BFT Automatic Electric Gates.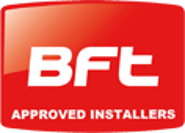 We can have any metal gate styles made by our fabricators and delivered to site. These can be powder coated in any colour required for that modern look. We also install solid timber and 5 bar gates
Swing and sliding gate applications all fitted with BFT automation systems. Photocell safety devices and on gate rubber safety edges to provide a safe working system.
Our BFT 24v motors also have inbuilt object detection via the control boards so if an object comes into contact with the gates outside of the safety devices it will feel the pressure and immediately stop and reverse its operation slightly. This works at all times in both the opening and closing phases. It will then remain in safety mode until the object has safely been removed and the gates can then be activated again to open/close as required.
Gates can lock in the closed position via external magnetic locks and drop down bolts. Manual gate release functions on all our systems to open in the event of a power failure.
Free exit vehicle loops can be installed to simply drive up to the gates and they will open upon approach, see video below.
All our systems come with remote fobs but any of our intercom and access control systems can be integrated onto any of our swing or sliding gates. GSM dial to open facility available so you can trigger the gates to open remotely, keypad functions and biometric readers.
We also service and maintain customers various existing gate systems from different manufacturers including FAAC & CAME etc. We can carry out repairs and source replacement parts where required.